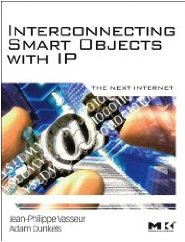 Listed as one of
top 10 networking textbooks
coming out in 2010 and in Dr Dobb's
This Weeks Developer Reading List
in 16 June 2010.
What is the Internet of Things, how is it used today, and how will it be used tomorrow? Mobile telecommunications giant
Ericsson
predicts that
50 billion devices will be wirelessly connected in 2020
. Leading computer networking company
Cisco
sees that the next generation of the Internet will
connect 1000 times as many devices as the current Internet
. IT company Hewlett Packard plan to deploy
1 trillion smart sensors to monitor the planet
.
The book covers:
background:
wireless sensor networks, ubiquitous computing, computer networking;
technology
: hardware and software, low-power communication with 802.15.4 and WiFi, power line communications (PLC), the Internet Protocol stack, IPv6, UDP and TCP, REST and web services, security, 6LoWPAN header compression, RPL routing;
smart object applications
: the smart grid, smart cities, building automation, home automation, industrial automation.
And more.
The book is available
at Amazon.com
.
About the Authors